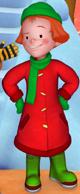 "Don't worry everyone I will protect you"
—BG
Gudule, the girl from the books that inspired Bravo Gudule, was renamed BG in the English adaptation, which was retitled Miss BG.
Big: that's exactly what this 8-year-old thinks she is! BG (sometimes stylized as Bg) is curious about everything around her and plunges head-on into adventures and escapades. She's a natural leader amongst her friends, even though she can be slightly bossy at times. She's also a bit of a tomboy, and loves to hang out with her best friends Gad and Alex in their super cool tree house.
She has a younger brother named George, they both share the same Parent's: their Mom: name is Charlotte and their Dad name is: Jeffery, Last Name: Garcia. Bly Baxter is from the Littlest Pet Shop: another Story.
Etymology
Edit
Facts:
Miss BG was titled "Bravo Gudule" in its original French incarnation of the TV series
This means BG's name is actually "Gudule".
Kind of like "Miss CL" could be a nickname for "Miss Congratulations Lisa".
Unsourced rumors:
(1.) Surname "Baxter" is from -
(1.) The Littlest Pet Shop: Bly Baxter (Another Story.)
(2.) BG is short for Big Girl
(3.) Miss. B.G. Full Name: and "Beatrice Bella Garcia"
(4.) B.G.'s. Nick Name: is short for "Bella Gloria-" (filled with idea's).
(5.) Her mother is named Charlotte
(6.) Her father is named Jeffrey
TVO Kids description
Edit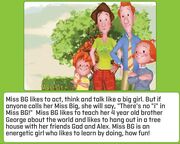 from http://www.tvokids.com/shows/missbg
Miss B.G. likes to act, think and talk like a big girl, but if anyone calls her Miss Big, she will tell you. "There's no "I" in Miss. B.G!," she likes to teach her 4 years old brother: George about the way of the world and likes to hang out in a tree house with her friends Gad and Alex. Miss B.G. is an energetic girl who likes to learn by dancing, and having fun.