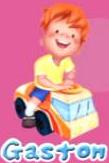 "George Garcia:"
—B.G.'s Little Brother George
Gaston in (English George Garcia voiced by Nissae Isen) George is a Child Tot: BG' Little Brother. Watches his favorite show Fishy the Fish. He is almost always seen with his beloved pet hamster: Albert. George's Friend's Who Miss. B.G. May or May not like are older than him (Same age as Miss. B.G...) George has some extended friends his age soon to be revealed (another Story). George looks up to her big sister. The Name B.G. Means Little Big Sister. The Problem: To Why Her sister get in trouble by her parents: She likes to Double Dip: Fidget stretch extend truth a little, Orchestrate: Schematically Construct, Character reconfigure the whole Plan to her will. Nothing will stand in her until she get what she wants, at any cost while Protecting George from the public.
Appearance:
Edit
Youngster Tot; not yet in Kindergarten Red Hair, brown eyes, George wears a yellow T-shirt, short cuff pants, white Socks, and black slippers.
George has some extended friends his age. Revealed in the Miss B.G. Unreported Story: George's Classmates, Teammates and Friends. Miss. B.G does not like mention. with the exception George's Best Friend Dave.