Wiki created 11 August 2010 about a 2004 TV series.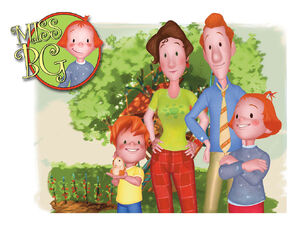 About Miss BG
Miss BG is the English retitle of Bravo Gudule a French 3-D animated series based on the Gudule et les bébés French children's book series published by Hachette-Jeunesse, authored by Fanny Joly and illustrated by Roser Capdevila.
It is a joint Canadian/French production and is distributed by Breakthrough Animation.[1] One hundred episodes have been produced to date.
In the main title card of the series, she stands between the "B" and "G", obviously spelling "BIG". If anybody calls her "Miss Big", she tells them. "There is no 'I' in 'BG'!"
Miss Bg Airs On Qubo Channel Digital Channel In USA.
Miss BG is 7 years old according to Telefilm Canada, however Breakthrough Animation gives her age as 8.
Characters
Edit
Her brother George who has a very active personality, His Hamster Pet has dotes on his back: Albert, and George likes a TV show called Fishy the Fish. Miss. B.G. finds other means of teaching George about the ways of the world. Miss B.G. also likes to hang out in a tree house with her best friends, Gad and Alex.
Other characters are:
The series has aired on:
New articles
Edit